mobile bookmark huh?
Global consumers recognize John Deere as a classic American brand associated with reliability and durability. The company successfully positions itself as the premier provider of commercial, agriculture, construction and forestry equipment.
Deere Season 2008 Campaign
Challenge
Showcase the latest products while promoting the global network of 2000 dealers.
Strategy
Deere annually targets residential consumers in a spring campaign known as Deere Season. Product managers roll-out new equipment lines as well as a staggering array of optional add-ons to tackle any job.
The 2008 campaign introduces new compact tractors and utility vehicles to residential consumers. It also promotes the dealer as an alternative point-of-sale to the traditional big-box retailers. It does so in a way that doesn't undermine national reseller partners, rather it represents the dealer's knowledge and experience.
The campaign centers on a comprehensive product selection landing site on Deere.com delivered in Flash video. A friendly dealer invites users to select a product against the backdrop of a real showroom floor (shot in HD at Coufal-Prater Equipment in Bryan, Texas). The dealer helps with usability by prompting the visitor to select a product.
After the brief intro, users can rollover products and click through to learn more. In keeping with subtle usability practice, redundant navigation is provided at the bottom of the entire unit for repeat visitors and for people who scan the text.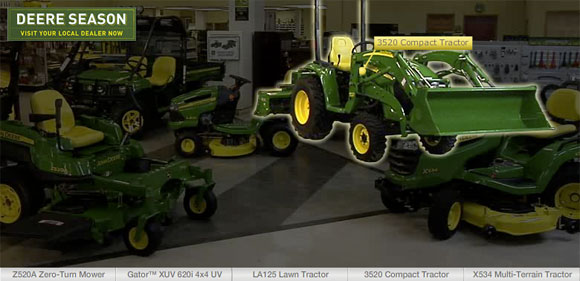 Following a load transition, the dealer appears with the product and offers a broad overview. A tertiary nav animates downward below the Deere Season billboard with links to view product features and benefits, configure a product, find similar products or find a local dealer.
A photo slideshow accompanies each product to highlight its capabilities and optional implements. It overlays the main product page and can simply be closed to return back to the main unit.
This project encountered the technical challenge of delivering low initial page weights as mandated by John Deere's corporate web publication standards. To work around this issue, Flash video is loaded incrementally. As visitors browse the dealership, they are prompted with brief product descriptions and a call to action (CTA) to either a product selector or the product catalog.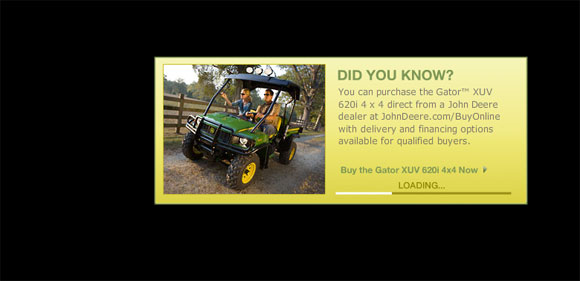 After highlighting general product attributes, the dealer enters into a "living-breathing" state with very subtle body movement, facial expressions and eye blinks. This allows the Flash editor to build a loop of natural behavior and the visitor can consume the content at their own pace.
The living-breathing state includes occasional prompts to engage the "hot spot" details. Again, best practices in usability are applied by empowering the visitor to choose whether or not they want to consume further content. Rolling over the hot spot shows a detail title. If the visitor clicks through, the dealer speaks about that particular detail and then returns to the living-breathing state.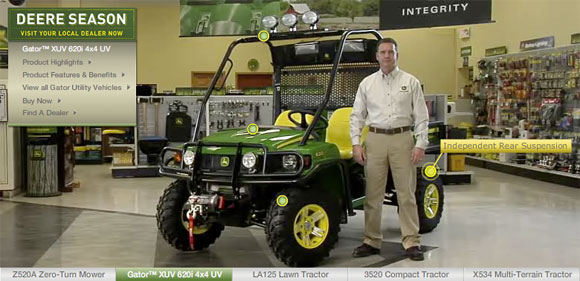 Online Media
Gov/Mil
PLC
PGA
Standard, Rich, value-add
eHow microsite
Campaign Impact
The John Deere dealer network loved the campaign and welcomed inclusion within marketing efforts. Deere Season realized nearly 100 million impressions, many within niche landscaping, government & military, farming and horse enthusiast web sites. Product sales increased over previous year's performance.
Deere Season: Interactive Credits
Creative Agency: GSD&M Idea City
Broadcast Production & Editing: Action Figure
Flash Engineering & Video Editing: Zugara
Split & Hot Spot Standard Banners: Kadium / Euro RSCG
Refreshed Pricing Standard Banners: The Vacuum Design
PGA Expandable Rich Banner: The Vacuum Design
Sunrise/Sunset Rich Banners: Visual Goodness