mobile bookmark huh?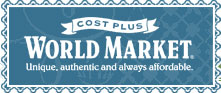 Cost Plus World Market is a unique retailer with 300 stores across the United States. The company focuses on original handmade, food and wine from around the globe.
Rich Media
During the 2007 holiday season, GSD&M Idea City created expandable banner concepts that showcased the brand's unique offerings. I worked with Primal Stare Studios in Tinton Falls, NJ to produce the banners and release them on the Atlas server platform.
Desktop / Social Widget and Corporate Blog
Following an internal ideation session, I helped Account and Creative teams plan interactive branding campaigns targeted at World Market users. I conducted a formal RFP process with select vendors for an Adobe Air desktop widget compatible with Google's Open Social API. I developed schedules, cost estimates and the final project plan. I accompanied the Account Director and Creative Director on a pitch directly to senior management at the World Market headquarters in Oakland.